Terms and Conditions

DISCLAIMER
SolarGen has carefully prepared this website to provide information about the company for its customers and other stakeholders.
The information presented here is of a general nature and there is a
possibility that changes in circumstances after the date of publication may impact on the accuracy of the information.

The company accepts no responsibility or liability for the public's
subsequent use or misuse of the information provided.

SolarGen Limited strongly advises you to seek independent professional advice before making any investment decisions.
You are welcome to download this information for your own personal use or to inform others about SolarGen businesses or products. You must not do anything to alter or modify the information in this web site.

PRIVACY NOTICE
At SolarGen we are committed to following the guidelines set out by the Federal Privacy Act of 1988 (amended 2000).

The personal information collected via our website is used for the following purposes:
Selling, promoting and provision of products and services requested by you.
Registering and handling of product warranties.
Providing you with information that you request.
Sending you additional information including commercial electronic messages in form of Email and SMS on our products and services which we think may be of interest to you. You may request not to receive this additional information by contacting us or by logging into your account.

We do not sell or pass on any personal information to third parties. The information collected is used to fulfil our role as a retailer: to provide products and services to you, our customers.
Privacy is a very important issue. If at anytime you believe we have not adhered to these principles, please let us know and we will make every effort to review and correct the problem. We also welcome your questions and comments about your privacy and our Code of Practice.

Price Conditions:
Federal Government Photo-voltaic Rebate and is subject to change without notice and approval by the Australian Greenhouse Office. Advertised price does not include required installation of smart meter: price and type of meter varies according to the requirements of your local electricity distributor (typical price of $150 – $350). We are unable to install solar panels on slate or asbestos roofs.


Solar Panel Installations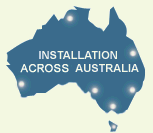 Benefits of Going Solar
* Free electricity from the sun
* No greenhouse gas emissions
* No or lower electricity bills
* Avoid rising electricity prices
* Silent systems, no moving parts
* Increase the value of your home
* You can add more panels later
* Quality long lasting systems
* Guaranteed return on investment
* Deal with accredited installers