Solar Power for Homes

Solar power for homes is the best way to reduce or totally eliminate household electricity bills. The size of the solar system you purchase will ultimately determine how much money you can save and/or earn through feed-in tariffs.

If your system produces an excess amount of power then you will be paid for this excess by your electricity retailer under a net tariff. A gross tariff allows you to be paid for all the electricity your system generates.

The rate at which you are paid will vary from retailer to retailer and is also affected by what type of feed-in tariff your state has adopted. If you would like up to date information on our solar systems, rebates and feed-in tariffs please call one of our consultants on 1300 433 433 or leave your details here.

* Please note the images shown are for display purposes only.






**This order is subject to standard terms of the Aspire Contract. Variations may incur costs. If variations are not agreed to, the order deposit will be refunded. After Payment of Order Deposit, Aspire Solar consultant will be in contact with you in 3 working days to conclude order, arrange contract and obtain contract deposit of 25%. The Prices above are based on, pitched roof, metropolitan, single story.
Solar Panel Installations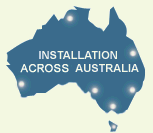 Benefits of Going Solar
* Free electricity from the sun
* No greenhouse gas emissions
* No or lower electricity bills
* Avoid rising electricity prices
* Silent systems, no moving parts
* Increase the value of your home
* You can add more panels later
* Quality long lasting systems
* Guaranteed return on investment
* Deal with accredited installers