Commercial Solar Power

SolarGen is an Australian company specialising in grid connect solar power systems and energy efficiency. We install solar energy systems for businesses throughout Australia whilst having an impecible track record when it comes to customer satisfaction.

Purchasing a solar power system for your business is a decision that shouldn't be taken lightly. Quality and service vary widely in this industry so choose a knowledgeable company that uses quality equipment and has proven track record of successful installations.

SolarGen stands out because we provide:
BETTER SOLAR PANELS
We use highly efficient solar panels in all our grid connect solar systems. Long-lasting and damage proof, they will provide decades of Free Electricity.
BETTER SOLAR INVERTERS
Our high-quality inverters are designed to last 25 years. Why buy a system where you might have to replace the inverter in 5-10 years.
BETTER CUSTOMER SERVICE
Our friendly staff will assist you every step of the way from your free assessment through to any rebates or tariffs you're eligible for. We have a proven track record of fair quotes, professional installations and rapid action, see what some of our happy customers have to say!
Commercial Solar

Commercial and Business premises that install solar are entitled to Solar Credits and a wide range of subsifies and rebates.

SolarGen is one of Australia's leading Commercial Solar Energy System providers. If you would like up to date information on installation, products, rebates and tariffs, please contact us. read more


Solar Credits & Tariffs

Solar credits is a mechanism under the expanded RET scheme which multiples the number of REC's able to be created for the solar system being installed. Solar Credit Information…

A feed-in tariff is a premium rate paid for electricity fed back in to the grid from your solar power system. Tariffs Info…
Solar Panel Installations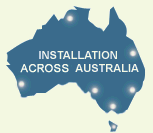 Benefits of Going Solar
* Free electricity from the sun
* No greenhouse gas emissions
* No or lower electricity bills
* Avoid rising electricity prices
* Silent systems, no moving parts
* Increase the value of your home
* You can add more panels later
* Quality long lasting systems
* Guaranteed return on investment
* Deal with accredited installers