About Solargen
SolarGen is a registered electrical contractor and licensed REC trader in all states and territories of Australia. We employ over 100 staff Australia wide and are located in all major cities. We also provide an extended service to rural and remote areas. Thinking globally, but with a strong focus on the local area, we pride ourselves on traditional local service and only the best equipment. We project manage all of our work from start to finish and are very active in the broader community with large scale projects in the renewable energy sector.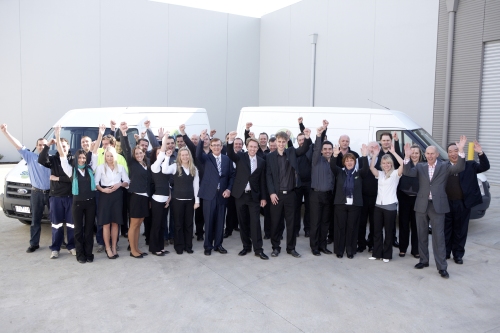 SolarGen Staff, Australia
A large portion of our work has come from initiatives including the National Solar Schools Program and a joint venture with the Australian Department of Justice. We have a strong track record for getting the job done on time and on budget. We have a range of staff with various qualifications including energy auditors, BCSE installers, approved solar designers and inverter technicians.
Left: Greg Hunt : Shadow Minister for the Environment Middle: Harry Jenkins : Speaker for the House of Representatives Right: Matthew Wright : Director of Beyond Zero Emissions
On the 28th of July 2010 the new SolarGen headquarters was officially opened by the Shadow Minister for the Environment Greg Hunt who has been a long standing supporter of the company and its philosophy. Harry Jenkins, the local member for Scullin and the Speaker for the House of Representatives, was also present. He expressed his interest for the company and the jobs it has brought to the local economy. He described SolarGen as the Microsoft of the Solar Industry. Also present was the executive director Matthew Wright of Beyond Zero Emissions Australia who presented his organizations plan for 100% renewables in 10 years He showed that its both possible and affordable. The staff at SolarGen support the plan and will be actively involved in the project over the coming months.
Solargen Vans
SolarGen has established industry business practices which will ensure we will be around for decades to come.
Source: Reuters, the red colouring indicates where solar energy has the maximum effect.
Using our own in installers ensures that you are dealing with the same company from start to finish. There is also a Power Meter Department within SolarGen which can assist with all your metering needs. From the very start, the company has had a strong focus on having the highest Occupational Health and Safety in the industry and as a result, SolarGen is highly sort after for skilled trades people wanting to work in solar.
Not only is SolarGen one of the largest solar installers in Australia with clean energy council approval, we also have a distribution arm to our business that services the solar industry directly. This means our bulk buying power is second to none. We stock all major brands of panels and inverters in our NSW, Qld and Vic Warehouses to service all your needs.

BCSE Solar Accreditation: P2167

Rec trader 19206

ABN 43 120 816 739